"Holding & Lifting" was the first painting I created after the November 2016 U.S. presidential election. For days after the election results I had a mix of feelings: numbness, directionless, uncertainty, and powerlessness. I did not know my role anymore in helping create social change. Throughout social media Toni Morrison's wisdom kept appearing: that times of despair is precisely the time for creating art. That message propelled me to turn to my art as a source of energy, certainty, and power. The result is works of art that speak to the power of generations of women of color, of persistence, and hope.
$10 of every purchase of this print will go directly to the National Organization of Sisters of Color Ending Sexual Assault (SCESC), to help "ensure that Women of Color who are survivors of sexual assault receive the culturally relevant support and services they need; while raising the consciousness, outrage, and accountability within Communities of Color regarding violence against women."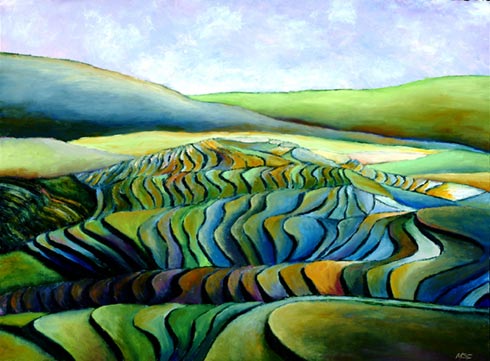 Visiting Vietnam for the first time in 2003 was an incredible journey and opportunity for me. This painting was inspired by my trip to northern Vietnam, home to the Hmong ethnic minority community, where the immense rice terraces are endless.

"Cool Climbing" as the original painting (oil on paper) has been sold and now the image of the painting is now available as an open edition, high quality giclee print.

Media: Archival giclee print on Hahnemühle Photo Rag (308gsm) with Epson UltraChrome Inks. Image: 8"x11", Print: 11"x14". There is a white border around the image. My signature for the print is in the lower left hand corner.